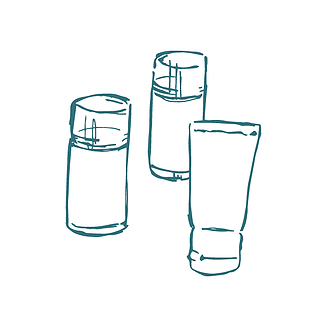 DOES TBL PROVIDE BOTTLES, JARS, LIDS, SEALS, PUMPS, LABELS AND OTHER ITEMS NEEDED TO PACKAGE MY PRODUCT?
Currently, we do not provide components and/or labels. If you would like to utilize our services we ask that you source components and/or labels and have them sent to our warehouse.
HOW DO I SOURCE BOTTLES, JARS, LIDS, SEALS, PUMPS, LABELS AND OTHER ITEMS NEEDED TO PACKAGE MY PRODUCT, ON MY OWN?
TBL can provide you with a list of Preferred Vendors and is here to offer our advice and expertise along the way!
WILL I FIND A PRODUCT WITH A TEXAS BEAUTY LABS LABEL IN ANY STORE, SALON OR SPA?
No. TBL is solely a contract manufacturer and filler. Our bases are not intended for resale with the TBL name.
DOES TBL USE PRESERVATIVES?
Yes, we do. TBL uses Optiphen a paraben-free and formaldehyde free preservative for personal care products that is Whole Foods approved.
ARE TBL PRODUCTS CERTIFIED ORGANIC?
No. However, TBL products are made of all-natural materials and, we use organic ingredients when available.
CAN I USE AN ALL-NATURAL PRESERVATIVE IN PLACE OF A TBL APPROVED ONE?
Possibly. This will be considered on a case-by-case basis and will require additional waivers, liability releases, testing and fees.
I WOULD LIKE TBL TO ADD FRAGRANCE, COLOR, ESSENTIAL OILS, WATER SOLUBLE ADDITIVES AND/OR FLAVOR TO ONE OF YOUR BASES—CAN YOU DO THAT?
Yes we can! In this case, the website price isn't applicable and TBL will send you a price quote for this customization.
WHAT IS THE AVERAGE SHELF-LIFE OF TBL BASES?
With proper storage most TBL products have a shelf-life of approximately one year.
I LOVE A TBL BASE, BUT I WOULD LIKE TO ADD AND/OR REMOVE ONE OR MORE INGREDIENTS, CAN I DO THIS?
Yes*. For this customization the website pricing is not applicable.
*Custom requests are subject to approval by our lab. Remember "TBL hearts Natural" and prefers to work with naturally derived materials.